---
611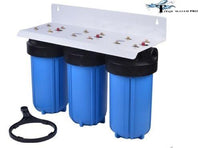 Sale
BIG BLUE 10"X4.5" TRIPLE WATER FILTER SYSTEM 1" NPT
Sediment/GAC Coconut Shell/Carbon Block 10" x 4.5"
Triple Whole House/Light Commercial - Big Blue Water Filter System 10"x 4.5" features:
This filter has (3) - 10"x 4.5" water filter cartridges that are designed for high-flow water filtration applications. Unique, wide cartridges are capable of filtering enough water for a house, apartment or office.
First Filter

is a 5 MICRON SEDIMENT FILTER 10"X 4.5"
Sediment cartridge filters are primarily used to remove silt, sand or other particulate matter from water.
Second Filter Cartridge is a multi-stage filter that consists of Coconut Shell GAC
The GAC activated carbon removes organic contaminants to substantially improve water clarity,taste and odor. It does not add any harmful chemicals to water, making it safe for drinking water applications.
Third Filter Cartridge is a Carbon Block filter Carbon Block Filter 10"x 4.5"
Carbon Block strains out sediment, dirt, bacteria, microscopic worms, algae, asbestos and cryptosporidium. With water pressure, this compacted solid carbon block is designed to filter sub micron size particles. This micro straining of the water will provide clean and clear drinking water.
Big Blue Whole House Triple Filter System:
Heavy Duty design, easy filter cartridge changes
Pressure release Valve
Wall Bracket
1" NPT input/output (water line diameter)
Sediment Filter
GAC Coconut Shell Cartridge
Carbon Block Filter
Housing Wrench
2 Connector 1"

12 Bolts/Screws


Assembly required.
This system comes with a first sediment filter, second cartridge GAC Coconut Shell Carbon, third stage carbon block filter.
Please email us at:    123WaterFilter@gmail.com

Our Address:             311 East Ave K8 Stu. 111
                                  Lancaster, CA US 93535
Contact Us :             661-388-2188
We ship worldwide, please contact for shipping quote. 
                                    Thanks for shopping with us!