---
342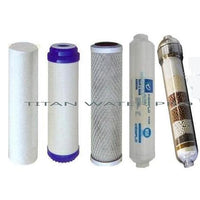 Water Filter Replacement 5 Pc Set Sediment/CTO/GAC/Alkaline Ionizer Neg Orp/Post Carbon
Description:
Water Filters RO 5 Pc Replacement filter sets for Standard reverse osmosis water filter system 6 stage with Alkaline Ionizer Filter.
1 Sediment Water Filter 5 micron
1 GAC Coconut Shell Carbon Filter
1 Carbon Block Coconut Shell 5 micron
1 Alkaline Ionizer - Neg Orp Potentional
1 Post Carbon Inline Filter
Pre Filters fits standard 10" Housings (9.75" x 2.75")
Post Alkaline and Carbon Inline are 2" x 10" with 1/4" FNPT
1 Sediment Filter 5 Micron for Dirt & Rust
5 Micron Polypropylene Sediment Filter
To remove larger particles & suspended matter such as dirt, silt, rust, sand, algae, sediment, scale particles, dirt and cloudiness from water.
Replace every 6~12 months or 3,000 Gallons
1 GAC Coconut Shell carbon Filter
GAC Coconut Shell Carbon Filter
Gives your water sweet taste & remove chlorine, pesticides, herbicides, bad taste & odors.
Replace every 6~12 months or lasts 3,000 Gallons
1 Carbon Block CTO Filter
CTO Carbon Block Filter
To remove small particles and carbon fines may pass from second stage & to ensure 100% of chlorine removal.
Replace every 6~12 months or lasts 3,000 Gallons
1 Alkaline Mineral Ionizer Infrared Inline Water Filter 2"x10" 1/4"FNPT
Inline Alkaline/Ionizer Filter - The alkaline filter, , as reverse osmosis product water tends to be acidic due to the purity of the water. All minerals have been stripped from the water. To buffer the water to a more natural alkaline state, and to add essential minerals back ie. calcium, magnesium, potassium and sodium. This filter will increase the alkalinity without over correcting.This alkaline antioxidant filter provides abundant Active Hydrogen and also increases reduction power by increasing pH, making small water cluster and providing beneficial minerals. Negative ORP, which is produced with ionized alkaline water, severely retards the aging process. By counteracting oxidative damage to our cells. It does this by hunting down free radicals in our system and neutralizing them. Negative ORP is a very powerful anti-oxidant. and is found naturally in orange juice, glacial runoff and deep underground uncontaminated aquifer or spring water
Replace every 12month
1 Post Carbon/GAC Inline Water Filter 2"x10" 1/4" FNPT
Inline GAC Coconut Shell Carbon Filter
Replace every 12 month
Polishing GAC Post filter for the water and removes any taste or odor
Please email us at:    123WaterFilter@gmail.com

Our Address:             311 East Ave K8 Stu. 111
                                  Lancaster, CA US 93535
Contact Us :             661-388-2188
We ship worldwide, please contact for shipping quote. 
                                    Thanks for shopping with us!