---
660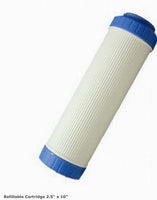 Water Filter Housing Refillable Empty Cartridge 10" x 2.5" fits standard 10" Housings*
Can be used carbon, activated alumina, DI media etc.,
*Design & Style of housing may vary.
Please email us at:    123WaterFilter@gmail.com

Our Address:             311 East Ave K8 Stu. 111
                                  Lancaster, CA US 93535
Contact Us :             661-388-2188
We ship worldwide, please contact for shipping quote. 
                                    Thanks for shopping with us!