---
68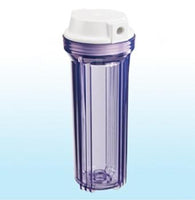 (1) CLEAR REVERSE OSMOSIS WATER FILTER SLIMLINE 2.5 HOUSING. 10"
1 REVERSE OSMOSIS WATER FILTER HOUSINGS.
GOOD FOR STANDARD SIZE 10"X 2.5 WATER FILTER/CARTRIDGE

This sale is for (1) 10 inch standard water filter housings CLEAR color with 1/4 inch FPT This standard size 10" housing uses any 10 inch replacement filters from any suppliers. check website for filters if any replacements are needed. They are not included in this package but if you'd like to include it, it will be extra charge.

These are great for homes. It can be used as an undercounter or counter top drinking water system.

Please email us at:    123WaterFilter@gmail.com

Our Address:             311 East Ave K8 Stu. 111
                                  Lancaster, CA US 93535
Contact Us :             661-388-2188
We ship worldwide, please contact for shipping quote. 
                                    Thanks for shopping with us!