---
357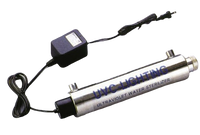 Sale
The UV-1C-110V features the following connections:
The UV-1C 110V UV Water Filter System - 1 GPM purifies your drinking water with ultraviolet technology. This UV system features a natural quartz sleeve that protects your 10W lamp and allows for the maximum amount of UV rays to disinfect your water. This UV filter system utilizes 254 nm of wavelength and is quick and easy to install. This UV system is also easy to maintain - simply replace your UV lamp once a year.
Lamp: 10W
Flow rate: 1 gpm
Port size: 1/4" MNPT
Rated life: 9,000 hours
Audible warning: Buzzer
Model number UV-1C-110V
Stainless 304 water chamber
Includes 2 Mounting Clips 2"
Please email us at:    123WaterFilter@gmail.com

Our Address:             311 East Ave K8 Stu. 111
                                  Lancaster, CA US 93535
Contact Us :             661-388-2188
We ship worldwide, please contact for shipping quote. 
                                    Thanks for shopping with us!