---
196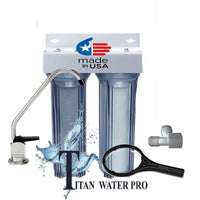 Sale
Under Sink Water Filter 2 Stage Sediment Filter & Carbon Filter  CLEAR HOUSINGS
Description:
Titan Water Pro 
FOR SALE 
This premium see-through Clear Housing  offers many advantages. Without opening the housing, you can easily monitor the filter's condition. You will get an idea about your water's quality by looking at the color and speed of contaminant buildup on the filter cartridge.
Although the 2 filters normally last 12 months on most city water sources, they may need to be replaced sooner if your water source has heavy sediments and other contaminants.
So how do you know when to replace the filters? Just look at the stage-1 filter, when it turns from white to medium or dark brown, then you know it's time to replace the filters. 
DRINKING WATER FILTERS SYSTEM 2 STAGE
1st STAGE- SEDIMENT FILTER 5 MICRON
Sediment filter to trap particles, including rust and calcium carbonate
2nd STAGE - CTO CARBON BLOCK FILTER (Upgraded)
Carbon filters are most effective at removing chlorine, sediment, and volatile organic compounds (VOC's) from water. 
1. Feed Water Adapter 1/2"MIP x 1/2"FIP x1/4" Tube Quick Connect
1. Housing Wrench
1. Sediment Water Filter
1. Carbon Block Water  Filter
1. Faucet Standard Chrome Finish 
Please email us at:    123WaterFilter@gmail.com

Our Address:             311 East Ave K8 Stu. 111
                                  Lancaster, CA US 93535
Contact Us :             661-388-2188
We ship worldwide, please contact for shipping quote. 
                                    Thanks for shopping with us!