---
306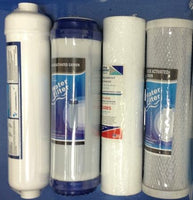 Sale
Titan Water Filters(3pc) Sediment Filter, KDF55/GAC Filter, Carbon Block Filter, 2.5"x12" Post Carbon Filter.
Description:
FOR SALE
4 Filters (For our LC Units)


Stage 1 - 100% POLYPROPYLENE CARTRIDGES, MULTI-LAYERED CONSTRUCTION FOR TRUE DEPTH FILTRATION. THE MULTI-LAYER GRADED DENSITY CAPTURES PARTICLES THROUGH OUT THE ENTIRE CROSS SECTION OF THE CARTRIDGE AND REDUCES SURFACE BINDING.
2nd Stage - KDF55/GAC Filter Cartridge
Bacteriostatic KDF/GAC Filter Cartridges uses KDF55 copper-zinc media and granular activated carbon to effectively remove chlorine, water soluble
heavy metals as well as inhibit scale and growth of bacteria and microorganisms in potable water. This filter fits standard size #10 and slim line #
housings that can accomodate a 2.5" x 9.75" Filter cartridge.
Drinking water is treated with Chlorine in order to prevent the growth of harmful bacteria and microorganisms in municipal water supplies. Activated carbon media is extremely effective at removing chlorine from drinking water; however, once chlorine is removed nothing is left to inhibit bacteria growth in the water. The K D F 55 media in this filter eliminates this problem by removing chlorine and inhibiting bacteria growth at the same time through the use of high-purity copper-zinc granules.
3rd stage CARBON BLOCK FILTER 5 MICRON.
This filter is a coconut carbon Block Cartridges 5 micron. excellent dirt holding capacity. Chlorine, taste and odor reduction.
4th Stage Post Carbon Filter 2.5" x 12" Heavy Duty Filter for odor removal & improve taste
GREAT VALUE.
Please email us at:    123WaterFilter@gmail.com

Our Address:             311 East Ave K8 Stu. 111
                                  Lancaster, CA US 93535
Contact Us :             661-388-2188
We ship worldwide, please contact for shipping quote. 
                                    Thanks for shopping with us!