---
1004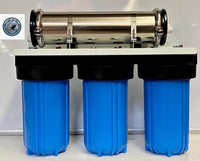 Sale
RO WATER FILTER REVERSE OSMOSIS WATER FILTER SYSTEM 600 GPD LP Membrane 1:1 RATIO
Description:

Hi Flow Reverse Osmosis Water Filter System:

Stage 1: Sediment Water Filter 5 Micron
Stage 2: Coconut Shell GAC Filter
Stage 3: Carbon Block Water Filter 5 Micron
Stage 4: HF5-4014 GPD Membrane Low Pressure 600 GPD (Best efficiency 80 PSI)
Manual Backwash Valve to maintain your membrane, regular backwash will extend the life of your membrane (Max Hardness 15GPG)

Test Conditions: Permeate flow and salt rejection based on 550 ppm, 80 psi (Max 150psi), pH 7, and 50% recovery.
Membranes are tested at 77F Water Temp, 80 PSI, 550 PPM
Note: Higher TDS and/or lower temperatures will reduce the system's production.
Pretreatment recommended if you have hard water to prevent premature scaling of membrane.
Filter Size 10" x 4.5"
Big Blue Water Filter Housing 20" x 4.5" with 1" PR
Please email us at:    123WaterFilter@gmail.com

Our Address:             311 East Ave K8 Stu. 111
                                  Lancaster, CA US 93535
Contact Us :             661-388-2188
We ship worldwide, please contact for shipping quote. 
                                    Thanks for shopping with us!