---
354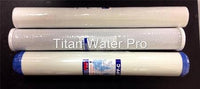 Sale
RO Reverse Osmosis Water Filter replacement set Sediment/Carbon/GAC 20"x2.5"
Description:
20"x2.5" Slimline Housing Water Filter Replacement Set (COMBO)
1ST STAGE: SEDIMENT FILTER 5 MICRON
Sediment Filter is a 4 stage polypropylene sediment filter with a high dirt holding capacity
Size: 2.75" x 20" fits 20" standard slimline housing.
2ND STAGE: CARBON BLOCK 5 MICRON
Size: 2.75" x 20" fits 20" standard slimline housing.
Chlorine, Taste & Odor Reduction
Made with Premium Quality Coconut Shell Activated Carbon
5 µ Filtration
No Release of Carbon Fines
Fits all Standard 20" Filter Housings
2500 Gallon capacity @ 1 PPM Chlorine with 98% chlorine removal at end of cartridge life.
Flow rate: 1 GPM
Cartridge is designed for use in Under Sink Filtration & Reverse Osmosis Applications
3RD STAGE: GAC CARBON CARTRIDGE
Please email us at:    123WaterFilter@gmail.com

Our Address:             311 East Ave K8 Stu. 111
                                  Lancaster, CA US 93535
Contact Us :             661-388-2188
We ship worldwide, please contact for shipping quote. 
                                    Thanks for shopping with us!