---
489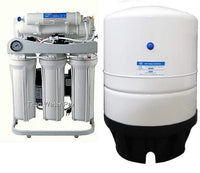 Light Commercial Reverse Osmosis Water Filter System - 5 Stage Frame Mounted.
2 TFC-2012-125 GPD Membrane = 250 GPD.
This Compact Reverse Osmosis Water Filter System comes with a booster pump for better quality of water production.
Frame Stand Mounted Reverse Osmosis Water Filtration 5 Stage System:
Stage 1:  Sediment Water Filter 5 Micron
Stage 2:  Coconut Shell Carbon GAC Filter
Stage 3:  Activated Carbon Block 5 Micron
Stage 4:  TFC-2012-125 GPD x 2 RO Membrane (250 GPD)
Stage 5:  Post Carbon GAC Filter for odor and taste.
Includes:
ROT-14 RO Storage Tank and valve, Feedwater adapter 1/2" MIP x 1/2" FIP x 1/4" Tube, Drain Saddle Valve 1/4" Tube, Inline Ball ball Valve 1/4" for RO Water dispensing.  
Reverse Osmosis Membrane are most efficient at 77 F Water Temperature, 65 PSI Water Pressure and 250 ppm, lower water temperature,water pressure and higher ppm will reduce the RO Water Production.
Please email us at:    123WaterFilter@gmail.com

Our Address:             311 East Ave K8 Stu. 111
                                  Lancaster, CA US 93535
Contact Us :             661-388-2188
We ship worldwide, please contact for shipping quote. 
                                    Thanks for shopping with us!