---
323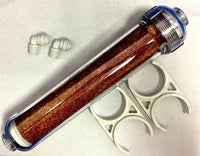 RO / DI ADD ON REFILLABLE CARTRIDGE 2"X10" (NUCLEAR GRADE DI) FITTINGS INCLUDED

DI/RO REVERSE OSMOSIS AQUARIUM REFILLABLE (ADD ON KIT)
INLINE CLEAR CARTRIDGE 2" X 10"


2 - QUICK CONNECT 1/4' CONNECTORS


2 - 2"X2" CLIPS FOR EASY ATTACHMENT TO YOUR SYSTEM

COMES WITH NUCLEAR GRADE DI RESIN.(HIGH PURITY).
Please email us at:    123WaterFilter@gmail.com

Our Address:             311 East Ave K8 Stu. 111
                                  Lancaster, CA US 93535
Contact Us :             661-388-2188
We ship worldwide, please contact for shipping quote. 
                                    Thanks for shopping with us!