---
635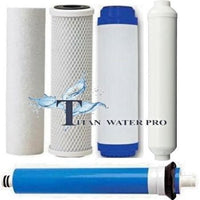 REVERSE OSMOSIS RO 5 FILTERS/MEMBRANE REPLACEMENT SET 200 GPD MEMBRANE - LC Unit
Description:
For Sale
1 Sediment Filter 5 micron.
1 GAC filter coconut shell carbon
1 Carbon Block Filter
1 TFC-2012-200
This membranes fits standard Membrane Housings
200 GPD RO Membrane - TFC-2012-200




Spiral Wound Design For Superior Membrane Flux




Thin-Film Composite Provides Exceptional TDS Rejection




Revolutionary High Active Membrane Surface Area




Tolerance To A Wide Range Of Operating Conditions




Industry Standard Size Compatible With Most RO Systems

TFC-2012-200 Reverse Osmosis Membrane Specs: Dimensions: 1. 75" W X 11.75" L Maximum Operating Temperature: 113F (45C) TW30-2012-200 Reverse Osmosis Membrane Materials of Construction: Membrane Type: Polyamide Thin-Film Composite.
1 Inline post Carbon Filter 2" x 10" Filter for Odor reduction and Taste improvement.
Replacement set for our Light Commercial Reverse Osmosis Units with single membrane
Please email us at:    123WaterFilter@gmail.com

Our Address:             311 East Ave K8 Stu. 111
                                  Lancaster, CA US 93535
Contact Us :             661-388-2188
We ship worldwide, please contact for shipping quote. 
                                    Thanks for shopping with us!