---
197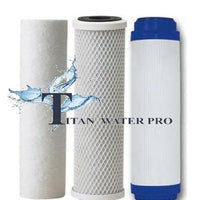 Sale
1ST STAGE- SEDIMENT FILTER 5 MICRON
Sediment filter to trap particles, including rust and calcium carbonate
2ND STAGE - GAC CARBON FILTER
Effective bad taste & odor and chlorine taste & odor reduction
3RD STAGE -CTO CARBON BLOCK FILTER
REPLACEMENT FILTERS FOR HOME DRINKING WATER SYSTEM, CAN ALSO BE USED
IN STANDARD REVERSE OSMOSIS SYSTEM.
Carbon filters are most effective at removing chlorine, sediment, and volatile organic compounds (VOCs) from water.
3 PCS REPLACEMENT FILTER SETS FITS 10" FILTER HOUSINGS.
Please email us at:    123WaterFilter@gmail.com

Our Address:             311 East Ave K8 Stu. 111
                                  Lancaster, CA US 93535
Contact Us :             661-388-2188
We ship worldwide, please contact for shipping quote. 
                                    Thanks for shopping with us!