---
26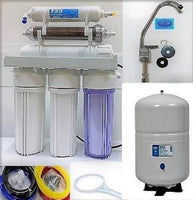 Titan Water Pro Dual Use Reverse Osmosis Water Filter Systems DI/RO 200 GPD
6 GALLON RO WATER STORAGE TANK
Description:
Dual Use Reverse Osmosis (2 Outlet) White Tube Faucet - Yellow Tube For DI Water Outlet.
DI FOR AQUARIUM USE OR ANY OTHER APPLICATION NEEDING DI

DRINKING WATER AND COOKING AND OTHER HOUSEHOLD USE.
2 OUTLET (Faucet for drinking water, Inline Ball valve for DI)
1. FOR DI OUTLET WITH TUBING AND STRAIGHT BALL VALVE.
2. VIA INLINE CARBON FILTER FOR TASTE AND ODOR REDUCTION FILTER CONNECTS TO RO FAUCET.
COMES WITH THE FOLLOWING:
5 TO 6 STAGE WATER FILTRATION SYSTEM
Stage 1 Sediment Water Filter 5 micron (Clear Housing)

Stage 2 GAC Carbon Water Filter (White Housing)

Stage 3 Carbon Block Water Filter 5 micron (White Housing)

Stage 4 RO Membrane TFC-2012-200 GPD

Stage 5 DI Water Filter Inline (White Housing)

Stage 6 Inline Post Carbon Filter
 Includes:
RO-152 or ROT-6 Tank RO Water Storage Tank (Large Capacity Water Storage)
RO Faucet - non air gap - chrome finish (White Tube)
Feed Water Adapter 1/2"MIP x 1/2" FIP TO 1/4" OD TUBE PVC (Red Tube)
Drain Saddle Valve 1/4" Quick Connect (Black Tube)
Housing Wrench
Inline Ball Valve for DI Outlet
Tank Valve 1/4" Quick Connect
First Housing is clear to see when it is time to change the sediment filter
Includes manual flush valve to extend the life of membrane and better water quality.
Color Coded Tubings
Please email us at:    123WaterFilter@gmail.com

Our Address:             311 East Ave K8 Stu. 111
                                  Lancaster, CA US 93535
Contact Us :             661-388-2188
We ship worldwide, please contact for shipping quote. 
                                    Thanks for shopping with us!