---
326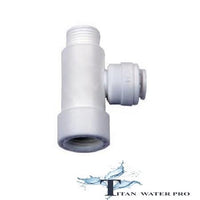 Sale
PVC Feed Water Adapter, 1/2"MIP x 1/2" FIP, 1/4" Tube OD Quick Connect
Description:
PVC Feed Water Adapter, 1/2"MIP x 1/2" FIP, 1/4" Tube OD Quick
Standard faucet supply PVC Feed Water Adapter, fits most all under sink installations
Use this to connect 1/4" tube OD to a kitchen faucet supply shank and line. 1/4" Quick connect fitting with 1/2" male & female ports.
White
Easy Install.
Please email us at:    123WaterFilter@gmail.com

Our Address:             311 East Ave K8 Stu. 111
                                  Lancaster, CA US 93535
Contact Us :             661-388-2188
We ship worldwide, please contact for shipping quote. 
                                    Thanks for shopping with us!