---
719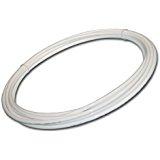 Tubing — Food Grade Tubing
LLDPE polyethylene for drinking water
10 feet per unit,
If you need 20 ft, for example, add quantity 2 into your basket.
We ship tubing un-cut in a roll.
1/4" OD tube with 0.17" ID
Please email us at:    123WaterFilter@gmail.com

Our Address:             311 East Ave K8 Stu. 111
                                  Lancaster, CA US 93535
Contact Us :             661-388-2188
We ship worldwide, please contact for shipping quote. 
                                    Thanks for shopping with us!