---
22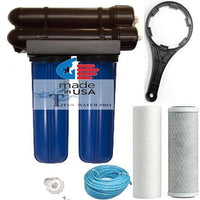 Great Hydroponics Reverse Osmosis Equipment
GOOD FOR YOUR GARDEN AND OTHER
Hydroponics Needs
Reverse Osmosis at a Great price !!




150 Gallons Per Day high-rejection TFC-2012-150

High efficiency 1-micron sediment filter.

High-Capacity 1-micron carbon block pre-filter eliminates chlorine, herbicides, and other organic pollutants.

Mounting bracket.

Housing Wrench

Garden hose adapter and filter wrench.

Green Tube - Garden Hose Adapter (Feed Water)
Blue Tube - RO Filtered Water
Please email us at:    123WaterFilter@gmail.com

Our Address:             311 East Ave K8 Stu. 111
                                  Lancaster, CA US 93535
Contact Us :             661-388-2188
We ship worldwide, please contact for shipping quote. 
                                    Thanks for shopping with us!