---
511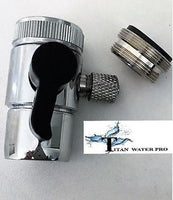 Faucet Diverter Valve 3/8" compression RO, Drinking Water Filter & adapter ring
Description:
Faucet Adapter Diverter Valve (Fits 3/8" OD Standard Tubing)
Diverter Valves are used to attach RO systems, counter-top drinking water systems,portable drinking water & RO to most kitchen sink faucets. They allow RO Units, countertop,portable units to remain connected to the sink. Simply turn the diverter valve lever to operate the RO, Counter-top, Portable units and push back to use the sink faucet.
Diverter valves are great when you want to leave your RO unit, counter top,drinking water, portable ro/di plumbed in. They fit most standard faucets (13/16") and can be adapted using an adapter ring (included) for male/female thread.

If your faucet internal thread size is 15/16" FPT (female) then internal faucet adapter 13/16" x 15/16" is required to connect the diverter valve to your kitchen faucet (included).
Please email us at:    123WaterFilter@gmail.com

Our Address:             311 East Ave K8 Stu. 111
                                  Lancaster, CA US 93535
Contact Us :             661-388-2188
We ship worldwide, please contact for shipping quote. 
                                    Thanks for shopping with us!