---
87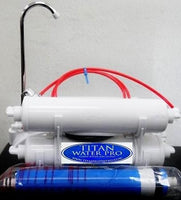 Compact Portable Reverse Osmosis Water FIlter
GREAT PORTABLE REVERSE OSMOSIS SYSTEM.
4 STAGE REVERSE OSMOSIS SYSTEM WITH 75 GPD.
1ST STAGE SEDIMENT INLINE FILTER 5 MICRON 2.5" X 12"RATED FOR 2500 GALLONS.

2ND STAGE CARBON IN-LINE FILTER 5 MICRON 2.5" X 12" RATED FOR 2500 GALLONS.

3RD STAGE 75GPD MEMBRANE

4TH STAGE 1N-LINE CARBON POST FILTER 2" X 10"
THE REVERSE OSMOSIS WATER SYSTEM COMES WITH QUICK CONNECT FITTINGS.
SYSTEM COMES WITH FDA FOOD GRADE TUBE
COLOR CODED TUBES FOR EASY INSTALLATION.
FAUCET ADAPTER FOR EASY CONNECTION.
RO SPOUT DISPENSER
QUICK AND EASY TO SET UP, GREAT FOR APARTMENTS, RV ETC.
Please email us at:    123WaterFilter@gmail.com

Our Address:             311 East Ave K8 Stu. 111
                                  Lancaster, CA US 93535
Contact Us :             661-388-2188
We ship worldwide, please contact for shipping quote. 
                                    Thanks for shopping with us!