---
699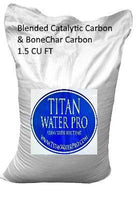 Blended Catalytic Carbon & Bone Char 1.5 CU FT Replacement media for 1054 FRP Tanks
Catalytic Carbon 100 Percent freshly manufactured virgin GAC
Residential and Commercial Water Filters
It excels at removing fluoride from water, it can also remove some heavy metals,
radio actives
, chlorine and other contaminants from water
Removes or Reduces Fluoride, removers 4.6665 pm of fluoride
Please email us at:    123WaterFilter@gmail.com

Our Address:             311 East Ave K8 Stu. 111
                                  Lancaster, CA US 93535
Contact Us :             661-388-2188
We ship worldwide, please contact for shipping quote. 
                                    Thanks for shopping with us!