---
535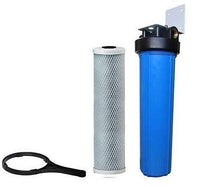 Big Blue Water Filter - Carbon Block - Mounting Bracket - 4 Mounting Screws & Wrench
20" x 4.5" - 1" with Pressure Release.
20" x 4.5" Carbon Block Activated Carbon CTO 5 Micron
5 Micron Coconut Shell Activated Carbon Block Filter
Flush for 5 minutes at least prior to use.
Applications
Coffee/Tea Filtration Systems
Espresso Filtration
Fountain Beverage Filtration
Ice Filtration
Drinking Water Filtration
Reverse Osmosis Systems
Whole House Water Filter Systems
Specifications
Material : Activated Carbon
Dimensions: 20" x 4.5"
Micron: 5
Packaging: Shrink Wrapped
Reduces Chlorine
Reduces Odor and Enhances Taste
High Capacity
No release of carbon fines
Please email us at:    123WaterFilter@gmail.com

Our Address:             311 East Ave K8 Stu. 111
                                  Lancaster, CA US 93535
Contact Us :             661-388-2188
We ship worldwide, please contact for shipping quote. 
                                    Thanks for shopping with us!