---
90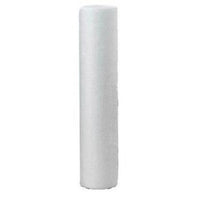 5 MICRON BIG BLUE SEDIMENT FILTER.
Using 100% food grade Polypropylene (PP) as material, the filter cartridge contains no wetting agents, solvents, antistatic agents or binders. The surface layer of the filter cartridge is designed to be low density to assure the high dirt-holding capability, while the inner layer is higher density to keep the accurate micron rate to stop small particles. Then density type is 30% higher filtration effect then the general type.
4.5" X 20" Sediment 5 Micron Water Filter
Applications

Food and beverages

Reverse Osmosis Pre filtration

Oil and gas

Fine chemicals

Electronics

Metal finishing

Pulp and paper
Please email us at:    123WaterFilter@gmail.com

Our Address:             311 East Ave K8 Stu. 111
                                  Lancaster, CA US 93535
Contact Us :             661-388-2188
We ship worldwide, please contact for shipping quote. 
                                    Thanks for shopping with us!