---
592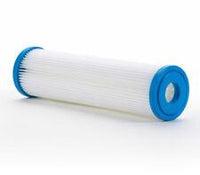 Sale
A high-grade cartridge built with 100% polypropylene, the sediment water filter cartridge makes it ideal for holding onto higher levels of dirt, and for keeping this dirt out of your drinking water. This 10 micron filter will fit into systems that use 20 inch x 4.5 inch filter replacements, including reverse osmosis filtration systems, ice machines and more. Tested and certified by NSF International to ANSI/NSF standard 42. For best results, the manufacturer recommends replacing every three months. Order the SPF-45-2010 sediment water filter cartridge from us today.
Polyester pleated cartridges are manufactured from durable polyester to provide you with a superior pleated Filter that is washable, reusable and durable. The SPF series pleated filters are chemical and bacteria resistant, have a great dirt holding capacity and extend the time between Filter changes. SPF series polyester pleated cartridges are suitable for a variety of uses and can be used in residential, commercial and industrial applications. The polyester media is pleated around a polypropylene core for added strength and the ends are immersed in a Thermos setting vinyl plastisol. Embedding and sealing each end of the Pleat in this fashion fuses the three components together forming a unified end cap and gasket. 
Color: White
Item Dimensions: 4.5 inches x 4.5 inches x 20.0 inches
Number of Items: 1
Please email us at:    123WaterFilter@gmail.com

Our Address:             311 East Ave K8 Stu. 111
                                  Lancaster, CA US 93535
Contact Us :             661-388-2188
We ship worldwide, please contact for shipping quote. 
                                    Thanks for shopping with us!