---
408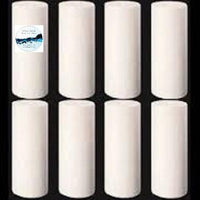 SDC SERIES - 4.5" x 10" (9-7/8") Graded-Density Sediment Depth Filter - SDC-45-1005
Manufactured from 100% Pure Polypropylene
Graded density for higher dirt holding capacity
5 Micron Nominal Filtration
SDC SERIES SEDIMENT DEPTH CARTRIDGES
These 4.5" x 10" (9-7/8") SDC Series Cartridges have true multi-stage depth filtration integrated into their design.
Utilizing four (4) separate layers of micron filtration, outside-in flow allows the outer layers to trap larger-sized particles, resulting in much lower pressure drop compared to conventional filters.
Trapping various sized particles layer-by-layer, the SDC Series Cartridges provide a much higher dirt holding capacity than standard spun polypropylene and string wound cartridges.
Ideal for Point-of-use (POU) and reverse osmosis applications.
These cartridges can be used in wide range of applications such as residential, food service, commercial and industrial.
Features & Benefits
Low Cost
Designed for Superior Performance
Specifications
Diameter - 4.5"
Length - 10" (9-7/8")
Initial Flow Rate: 1 psi @ 10 GPM
Micron Rating - 5 micron
Maximum Operating Temperature: 145°F (63°C)
Maximum Pressure Drop: 69°F (20°C) 46.4 psi (3.2 kg/cm2)
Recommended replaceable pressure drop: 21.75 PSI (1.5kg/cm2)
Operating Temperature: 40 Degrees F to 145 Degrees F
Please email us at:    123WaterFilter@gmail.com

Our Address:             311 East Ave K8 Stu. 111
                                  Lancaster, CA US 93535
Contact Us :             661-388-2188
We ship worldwide, please contact for shipping quote. 
                                    Thanks for shopping with us!