---
119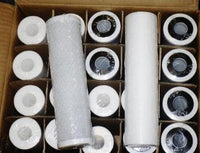 12 Pcs Water Filters (6) Sediment 5 Mic (6) Carbon Block 5 Mic
6 - Sediment Water Filters 5 Micron (9.75 x 2.75")
Polypropylene Sediment, 4 layers
Structure Nominal Micron Rating

Reduces Fine Sediment, Sand, Silt, Rust and Scale
Suitable for Municipal and Well Water Applications
Operation Temperature: 40F to 145F(4.4C to 62.8C)
Filter Media: Polypropylene
Certified by NSF 42 and FDA CFR Title 21
6 - Carbon Block Coconut Shell Based Activated Carbon 5 Mic (9.75" X 2.75")
SERVICE LIFE:3000 GALLON @ 1 GPM
DIMENSIONS: 9.75 X 2.5"
FILTER MEDIA: COCONUT BASE CARBON
NETTING: POLYPROPYLENE
THIS SALE IS FOR 6 SEDIMENT FILTERS AND 6 CARBON BLOCK FILTERS SIZE 2.5" X 9.75" FITS STANDARD SIZE 10" FILTERS HOUSING. 5 Microns

Please email us at:    123WaterFilter@gmail.com

Our Address:             311 East Ave K8 Stu. 111
                                  Lancaster, CA US 93535
Contact Us :             661-388-2188
We ship worldwide, please contact for shipping quote. 
                                    Thanks for shopping with us!