---
419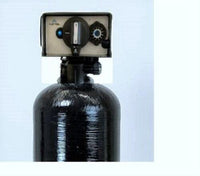 Calcite is a naturally occurring calcium carbonate media. One of the advantages of Calcite is its self-limiting property. When properly applied, it corrects pH only enough to reach a non-corrosive equilibrium. It does not overcorrect under normal conditions. Upon contact with calcite, acidic waters slowly dissolve the calcium carbonate to raise the pH which reduces potential leaching of copper, lead and other metals found in typical plumbing systems. Periodic backwashing will prevent packing, reclassify the bed and maintain high service rates. Depending on pH, water chemistry and service flow, the Calcite bed will have to be periodically replenished as the Calcite is depleted. As the Calcite's calcium carbonate neutralizes the water, it will increase hardness and a softener may become necessary after the neutralizing filter.
Raises pH of water to a non-corrosive equilibrium
Advantages of Calcite

Naturally occurring, inexpensive material
Low uniformity coefficient for maximum contact
Slower Reacting for controlled pH correction


Automatic Backwash Feature Reduces Maintenance, Maintains Filter Efficiency, and Prolongs the Life of the Filtration Media
Fully automated with aquatrol brand electromechanical control valve
High quality FRP/Composite Resin Tank, rated at 150 psi maximum operating pressure and 120°F maximum operating temperature.
Backwash: Time Clock Delayed

Water Neutralization

 
This unit comes with the Following
1- 9" x 48" FRP/Composite Resin Tank
1- AUTO BACKWASH TIMER VALVE WITH 1" YOKE
1 CUBIC FT OF CALCITE 
Please email us at:    123WaterFilter@gmail.com

Our Address:             311 East Ave K8 Stu. 111
                                  Lancaster, CA US 93535
Contact Us :             661-388-2188
We ship worldwide, please contact for shipping quote. 
                                    Thanks for shopping with us!