---
749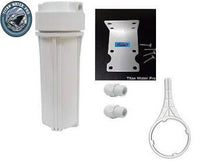 Description:
Reverse Osmosis / Water Filter Housings (White)
For standard size 10"x2.5" Water Filters/Cartridge
1/4" FNPT - Standard Size 10" housings - White -
Use for homes, under sink or counter top water filter system
This Housing is made from polypropylene and meet NSF & FDA Certifications
1/4" FNPT White 2.5"x 10" Rib Flat Top.
2. 1/4" FPT x 1/4" OD Tube Pushin Typle Straigt Fittings
Please email us at:    123WaterFilter@gmail.com

Our Address:             311 East Ave K8 Stu. 111
                                  Lancaster, CA US 93535
Contact Us :             661-388-2188
We ship worldwide, please contact for shipping quote. 
                                    Thanks for shopping with us!