---
439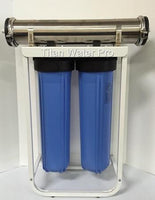 Sale
RO Reverse Osmosis Water Filter System 1000 GPD 1:1 Ratio High Flow
<
Description:

Titan Water Pro - Titan RO1000
 1:1 system ratio (adjustable flow restrictor)
Membrane: One AXEON-1000-HF5 4021 membrane element. The highest flow
membrane for maximum rejection 98.5% nominal
(96% minimum) of impurities.
Stage 1: Sediment Filter High Flow pleated sediment filter, washable and reusable.
Stage 2: Carbon Block 5 Mic - Chlorine, VOCs Removal
Stage 3: RO Membrane Low Pressure (80 PSI) 1000 GPD
Membrane Flush Valve: for easy cleaning and significant extension of membrane life.
Test Conditions: Permeate flow and salt rejection based on 550 ppm, 80 psi, 77°F (25°C), pH 7, and 50% recovery
Note: Higher TDS and/or lower temperatures will reduce the system's production.

Membranes are tested at 77 degree Fahrenheit temperature and 80 PSI water pressure (Best efficiency & Production)
*If you have very hard water, to prevent scaling/fouling of membrane, pre-water treatment is recommended.
Great for restaurants, distilleries, breweries, hydroponics and many more applications.

Please email us at:    123WaterFilter@gmail.com

Our Address:             311 East Ave K8 Stu. 111
                                  Lancaster, CA US 93535
Contact Us :             661-388-2188
We ship worldwide, please contact for shipping quote. 
                                    Thanks for shopping with us!