---
420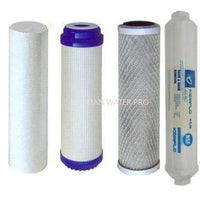 Set of reverse osmosis water filter (replacement water filter sets) 5 Stage RO - 4pc
Recommended replacement every 12 months (average usage and feed water condition)
1 - SEDIMENT FILTERS 5 MICRON
Polypropylene Sediment, 4 layers
Structure Nominal Micron Rating
Reduces Fine Sediment, Sand, Silt, Rust and Scale

Operation Temperature: 40ºF to 145ºF(4.4ºC to 62.8ºC)

Filter Media: Polypropylene
1 - Coconut Shell Carbon Block Filter
SERVICE LIFE:3000 GALLON @ 1 GPM
DIMENSIONS: 2-7/8" X 9-3/4"
FILTER MEDIA: COCONUT BASE CARBON
NETTING: POLYPROPYLENE
1 - GAC COCONUT SHELL CARBON CARTRIDGE RO WATER FILTERS
10" PREMIUM COCONUT CARBON FILTER
TASTE, ODOR AND CHLORINE
FILTER MEDIA: COCONUT BASE CARBON
DIMENSIONS: 2-7/8" X 9-3/4"
1 POST Granular Activated Carbon In-line 2" x 10" Filter
Normally used as the last carbon filter used to polish the taste of reverse osmosis water. Also used for icemakers, refrigerators, drinking fountains and coolers. 1/4" fittings not included.
Removes :
Chlorine

Bad Taste & Odor

Turbidity

THMs

Dirt

Sediment
Specifications:
Micron Rating: 10 Nominal

Female Nipple Pipe Thread (NPT): 1/4"

Dimensions: 9.75" x 2.75"


Weight: 13 oz

Operation Temperature: 40°F to 125°F

Filter Media: Coconut Base Carbon

Filter Life: 1,500 Gallons; Recommended filter change once a year.
The pre filters fit standard size 10" Housing.
Please email us at:    123WaterFilter@gmail.com

Our Address:             311 East Ave K8 Stu. 111
                                  Lancaster, CA US 93535
Contact Us :             661-388-2188
We ship worldwide, please contact for shipping quote. 
                                    Thanks for shopping with us!