---
198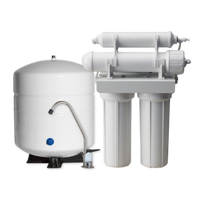 Sale
RO systems give you clean drinking water at home without bottles or water delivery services.
Our 4 Stage TWP Series reverse osmosis system is one of the best water systems available, it has four stages, sediment water filter, carbon water filter, RO membrane, and post carbon filter for pure, great tasting water at an economical price.  This system removes 96-98% of all contaminants, chemicals, solids, odors, bad tastes, bacteria, and heavy metals.  
 4 STAGE RO SYSTEM FEATURES
RO systems come with all filters, reverse osmosis membrane, quick connect fittings, feed supply, drain connector, 3 gallon steel tank, chrome faucet, all tubing needed for installation,
4 STAGE REVERSE OSMOSIS PROCESS
Our 4 Stage reverse osmosis system reduces and eliminates arsenic, chlorine, lead, mercury, bacteria, metals, chloroform, fluoride, nitrates, TDS, and nearly all other contaminants.
Please email us at:    123WaterFilter@gmail.com

Our Address:             311 East Ave K8 Stu. 111
                                  Lancaster, CA US 93535
Contact Us :             661-388-2188
We ship worldwide, please contact for shipping quote. 
                                    Thanks for shopping with us!