---
36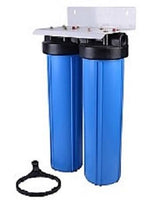 DUAL BIG BLUE HOUSING WITH 1" NPT with Pressure Release for 4.5" X 20" Water Filter.
Sediment Filter 5 micron 4.5 x 20" - To trap dirt, large micron sediment etc.
Carbon Block Filter 5 micron 4.5 x 20" - Removes Chlorine, VOC's, improves odor and taste
Includes: Housing Wrench, Dual Bracket, 1 Connector Nipple, 8 Mounting Screws
Assembly required.
Great Deal
Please email us at:    123WaterFilter@gmail.com

Our Address:             311 East Ave K8 Stu. 111
                                  Lancaster, CA US 93535
Contact Us :             661-388-2188
We ship worldwide, please contact for shipping quote. 
                                    Thanks for shopping with us!