---
692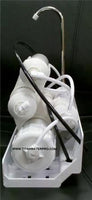 4 STAGE REVERSE OSMOSIS SYSTEM.
Stage 1 -Sediment Inline Filter 5 Micron 

Stage 2 -Carbon Inline Filter


Stage 3 -RO Membrane *

Stage 4 -Inline Post Carbon GAC Filter
* Household RO membrane has high permeability.
Household RO membrane can remove most of harmful substances such as Carcinogen, THMs (Trihalomethanes), heavy metal ions, bacteria and virus in drinking water.
This Reverse Osmosis Water System uses Quick Connect Fittings (Push-in) 
Color Coded FDA Food Grade Tubing (Feed Water, Wastewater & Product (RO) Water)
Faucet Diverter for easy connection (13/16" For male to female adapter included). Spout for clean water.
** Filters label, brand may differ/varies (we use what we have in stock) **
Great for Home, Apartment, RV and other portable scenarios.
Recommended filters change every 12 months, Membrane every 3 years under average use and fair feed water quality. 
Please Note: RO Membranes are tested by manufacturer at 77 F Temp, 60 PSI Water Pressure, 250 PPM. For Example a 35 GPD at  77 F Degree & 60 psi water pressure and less than 500 PPM can produce 1.4 Gallon per hour. Please understand that to make 1.4 Gallon water it will be low flow (trickle). For every 1 F Degree lower temp it will produce 2% less product water. For better flow select higher GPD Membrane.
GPD means Gallon Per Day, the higher the GPD the higher the flow.
Please flush the system for 30 minutes prior to use.
Unit Comes Fully assembled, install your faucet diverter to your standard sink faucet by replacing aerator, flush till carbon fines are cleared. 
Please email us at:    123WaterFilter@gmail.com

Our Address:             311 East Ave K8 Stu. 111
                                  Lancaster, CA US 93535
Contact Us :             661-388-2188
We ship worldwide, please contact for shipping quote. 
                                    Thanks for shopping with us!