---
153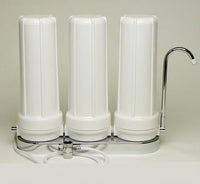 Titan Water Pro
C
ounter Top Drinking Water Filter System 3 Stage - Sediment 5 Micron, GAC Coconut Shell Carbon, Coconut Shell Carbon Block 5 Micron
1ST STAGE- Sediment Water Filter - 5 Micron
Sediment filter to trap particles, including rust and calcium carbonate
2ND STAGE - Coconut Shell Granular Activated Carbon (GAC)
Effective bad taste & odor and chlorine taste & odor reduction
3RD STAGE - Coconut Shell Activated Carbon Block Filter 5 Micron
Carbon filters are most effective at removing chlorine, sediment, and volatile organic compounds (VOCs) from water.
Includes all 3 filters. Easy connect with Faucet Feed Water Adapter.
Great Economical Water Filter Solution.
EASY QUICK INSTALL.
For replacement filter sets please enter
197
in the store search.
Please email us at:    123WaterFilter@gmail.com

Our Address:             311 East Ave K8 Stu. 111
                                  Lancaster, CA US 93535
Contact Us :             661-388-2188
We ship worldwide, please contact for shipping quote. 
                                    Thanks for shopping with us!