---
411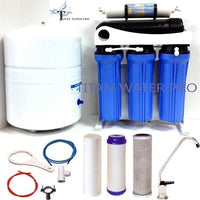 5 Stage Reverse Osmosis Drinking Water Filter System 150 GPD-Booster Pump - USA
Description:
LIGHT COMMERCIAL REVERSE OSMOSIS WATER FILTER SYSTEM

.
Great Compact RO Reverse Osmosis Water Filter System - 150 GPD
This system comes with A booster pump for better quality of water production

.
This is a 5 Stage Reverse Osmosis Drinking Water Filter System
Stage 1 Sediment Filter 5 Micron

Stage 2 GAC KDF 55 Filter

Stage 3 Carbon Block CTO Filter 5 Micron

Stage 4 150 GPD Membrane

Stage 5 Post Carbon Inline Filter 
This System will come with Coded Tubing for easy installation.
6 Gallon Reverse Osmosis Tank RO-152
Included is Feed Water Adapter 1/2" MPTx1/2"FPT x 1/4" Tube QC, Drain Saddle Valve. Tank Valve, Filter Housing Wrench, RO Faucet
This system is Frame mounted.
A Great System at a Great Value.
Please email us at:    123WaterFilter@gmail.com

Our Address:             311 East Ave K8 Stu. 111
                                  Lancaster, CA US 93535
Contact Us :             661-388-2188
We ship worldwide, please contact for shipping quote. 
                                    Thanks for shopping with us!