---
478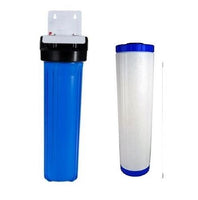 Water Heater Saver -
Siliphos
®
Polyphosphate Media
POLYPHOSPHATE/SLOW Phos beads is engineered to dissolve at a controlled rate of concentration to prevent scale and corrosion formation.
This high quality filtration media works extremely well for public water systems! Great for keeping your dishwasher, shower heads, water faucets, membranes and water heaters clean.
1 - 20"x4.5" Big Blue Water Filter Housing (With Pressure Release Button) 1" FPT
1 - Single Mounting Bracket for Housings
1 - Filter Cartridge with Siliphos Polyphosphate/GAC
Please email us at:    123WaterFilter@gmail.com

Our Address:             311 East Ave K8 Stu. 111
                                  Lancaster, CA US 93535
Contact Us :             661-388-2188
We ship worldwide, please contact for shipping quote. 
                                    Thanks for shopping with us!